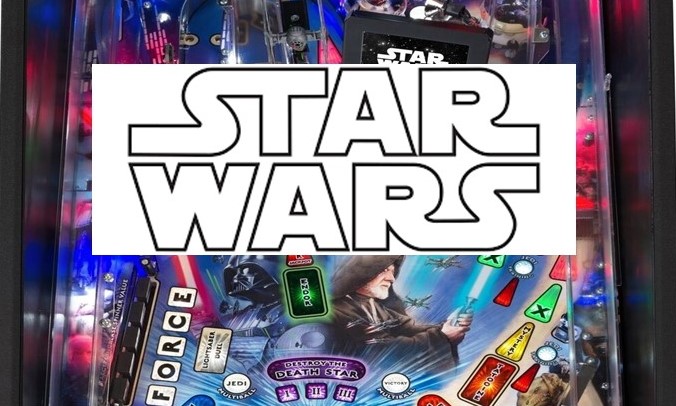 STAR WARS

STAR WARS PREMIUM


SOLD OUT







STAR WARS PRO


In Stock

$6,999





Star Wars™ Pin™
Stern Pinball's Star Wars™ Pin™ is a stylish, affordable and fun pinball machine designed and engineered for the home. Stern's Star Wars™ Pin™ immerses players in the dynamic Star Wars™ galaxy. The Pin™ is packed with features that provide players with an irresistible game experience including select speech and footage from the original Star Wars™ trilogy, color-changing playfield inserts, a custom sculpted Death Star, and a custom sculpted and interactive TIE fighter.

The easy to setup Star Wars™ Pin™ is built to last and engineered with genuine Stern commercial-quality parts. The playfield is housed in a stylish cabinet with dynamic, high definition artwork. The all-LED playfield lighting provides optimal color and brilliant light shows.

Star Wars™ Pin™
$4,999-Free Shipping

In Stock

ACCESSORIES - STAR WARS
Customize your STAR WARS machine with these accessories

Star Wars Comic Art Inside Art Blade - $79.99

Bring an added layer of color to your Star Wars Comic Book edition pinball machine with some awesome art blades. Fits all models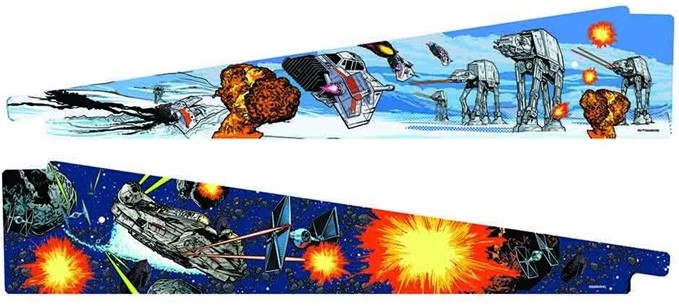 STAR WARS GAME DESCRIPTION
Start any version of Star Wars pinball and feel the excitement of the John Williams theme. Stern's Star Wars Pro, Premium and Limited Edition machines are packed with features that provide an irresistible game experience. The game includes select speech and footage from the original Star Wars trilogy; color-changing LED-lighted inserts; a sculpted LED-lit Millennium Falcon; and a sculpted TIE Fighter. The Limited Edition and Premium models also feature two LCD screens, an exploding Death Star interactive display, and a hyperspace ramp.
In addition to the immersive theme and exciting game experience, Stern Pinball's SPIKE-2 electronic platform enables high-definition graphics and innovative animations. The state-of-art electronic system also powers a high-fidelity 3-channel audio system that is three times more powerful than audio systems of previous generations. Star Wars Pinball entertains with an amazing array of modern and classic features, making it suitable for all skill levels.
All Star Wars pinball machines have 2 LCD's. Mounted on the playfield directly in the players view is a 4.25 inch LCD used as never before to give player instruction and feedback. In addition to score, status and instruction information, the backbox mounted larger LCD will display as many as 400 Star Wars video scenes. The player will decide to play as Hans, Leah, R2D2 or Luke. At the start of each ball the player will pick the award the player will earn for a successful skill shot, effecting strategy of good players to challenge them even on the Pro. The game will default select for the casual player, slow to make a choice.

Unique player controlled LCD fight modes are played while the ball remains active on the playfield.
Each version has a distinct art package. All are great hand-drawn Star Wars art. The LE is themed Millennium Falcon, the Premium for The Dark Side. To add to the distinction, the LE comes with laser cut side armor and all 3 backglass versions. Stern Pinball will soon have available an accessory LED lit frame to fit these backglasses.
_______________________________________________________________________
Pinballs.com is the Games Division of Automated Services, LLC. All rights reserved. 2022