MEDIEVAL MADNESS REMAKE

_________________________________________________________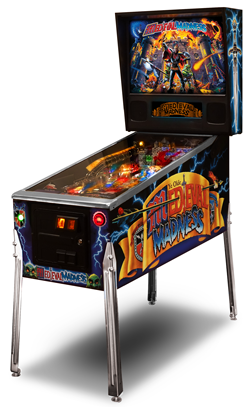 Medieval Madness Remake CE
Brand New In Box - 2 Left

Price: $12,500 + Shipping
with payment by bank wire or check

_________________________________________________________

UPGRADES AVAILABLE

FOR
MEDIEVAL MADNESS REMAKE

HD Color Display Upgrade (for CE) - $399.99 + Shipping
King of Payne Topper - $599.99 + Shipping

The King of Payne has come to life and brought his trolls to assist him in guarding his domain. This custom 3D topper has been sculpted by one of the King's personal sculptors and is available exclusively on the Royal Edition. It is nearly 8" tall and features integrated lighting that brings it to life on your quest to restore order in the kingdom.


Interactive RGB General Illumination (for CE and SE) - $249.99 + Shipping

For the first time ever, Medieval Madness has fully interactive RGB General Illumination. Medieval Madness Remake changes the general illumination of the playfield to enhance the playing experience. Watch as the dragon's breath burns your playfield with a red glow, and as the trolls try to overpower you with green light.

XL Display (for CE) - $649.99 + Shipping

Nearly 2x the viewable area! Enhance your viewing experience with Chicago Gaming Company's XL Display. The XL Display will really help bring your game larger than life.

___________________________________________________________________________
Pinballs.com is the Games Division of Automated Services, LLC. All rights reserved. 2020