IRON MAIDEN


Premium

$9,499- IN STOCK


Free Shipping




IRON MAIDEN


Pro


$6,999-IN STOCK


Free Shipping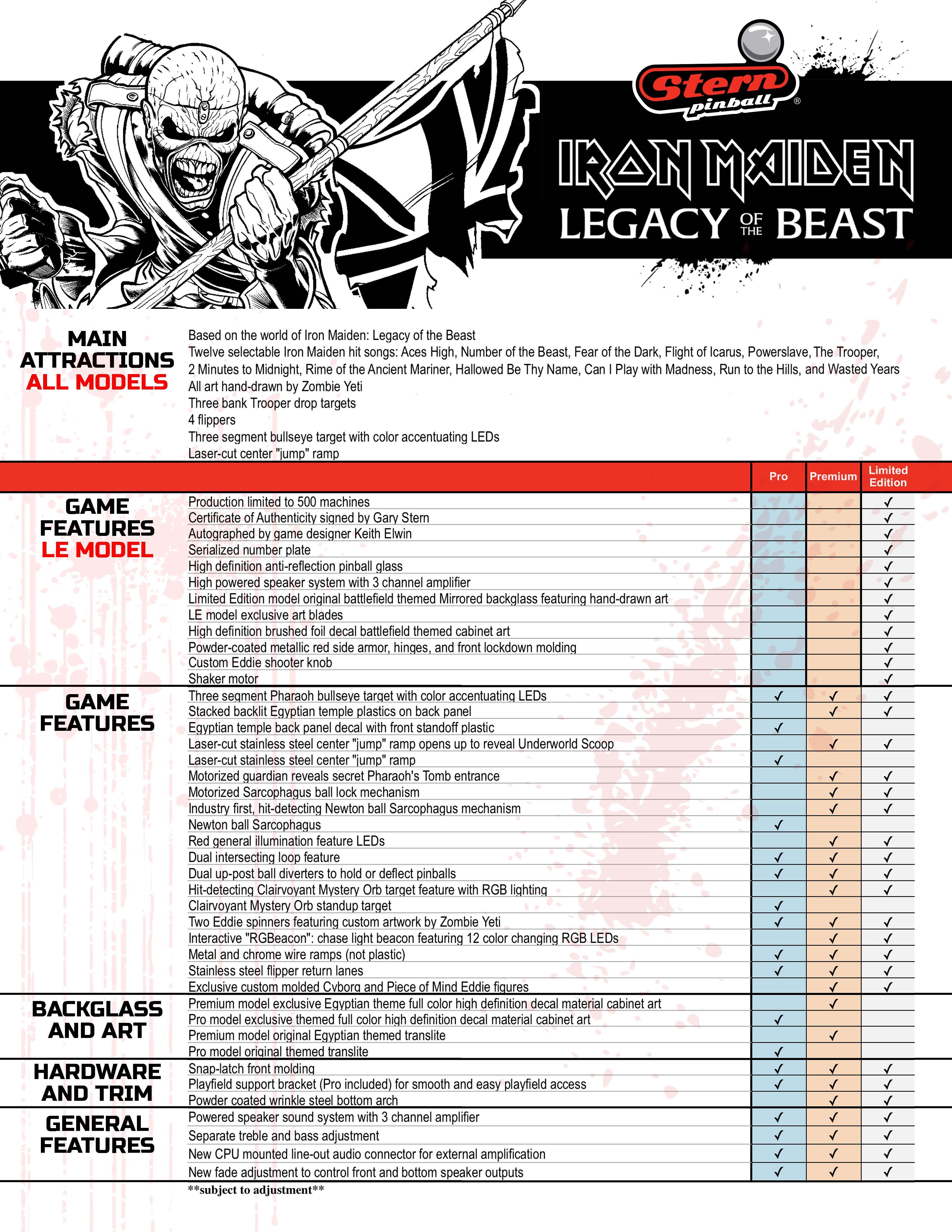 __________________________________________________________________

IRON MAIDEN GAME DESCRIPTION

Stern is producing a new line of "Legacy of the Beast" pinball machines that honor the classic and iconic rock band, Iron Maiden. Formed in 1975, Iron Maiden led the wave of British heavy metal music and became a global institution. Over the course of 40 years the band has come to embody a spirit of fearless creative independence, ferocious dedication to fans, and a cheerful indifference to critics. Iron Maiden has built a following that reaches every culture, generation, and time zone. With over 90 million album sales, more than 2,000 live performances in 63 countries, tens of millions of fans and 16 studio albums of unerring quality, Iron Maiden has more than earned its proudly held status as one of the most influential and revered bands of all time.
The Iron Maiden pinball machines aim to reflect the same excitement, energy, and experience of a live Iron Maiden concert. Players will immerse themselves in an interactive Iron Maiden universe transforming into various forms of Eddie, the band's legendary mascot. Players, as Eddie, will embark on a quest to defeat the Beast and his minions across the Legacy of the Beast mobile game and comic book world. Iron Maiden pinball entertains with an amazing array of modern and classic features, making it suitable for all skill levels.
Iron Maiden players become the band's Eddie mascot fighting the beast. All versions of Iron Maiden are loaded with Mechanical Action devices on a great shooting playfield. A back panel mounted multi-segment bullseye fed by a jump ramp is a fantastic new device. All versions have a 3 bank drop target, 4 flippers, 2 spinners, dual up-posts, intersecting loops, and Newton ball. The ramps are metal and wireform, not plastic. The same playfield support bracket, not the prop rods, are used on all Iron Maiden models.
The Pro, Premium, and Limited Edition models feature stunning and distinctive hand-drawn art by renowned illustrator and Iron Maiden fan Jeremy Packer, a.k.a. Zombie Yeti. All models include twelve Iron Maiden songs:
1. Aces High
2. 2 Minutes to Midnight
3. The Trooper
4. Wasted Years
5. Can I Play With Madness
6. Number of the Beast
7. Run to the Hills
8. Powerslave
9. Hallowed Be Thy Name
10. Flight of Icarus
11. Rime of the Ancient Mariner
12. Fear of the Dark
The Premium and Limited Edition models also feature an interactive sarcophagus ball lock, a motorized secret tomb entrance, a controlled middle pharaoh laser-cut metal ramp that raises to reveal the underworld scoop, a dual sensing Newton ball, and two custom Eddie sculpts.
The Limited Edition, limited to 500 units globally and in perpetuity, includes additional unique features such as an exclusive mirrored backglass and an upgraded sound system featuring an improved speaker cabinet and high quality JBL branded backbox speakers.

_________________________________________________
Pinballs.com is the Games Division of Automated Services, LLC. All rights reserved. 2023