GUARDIANS OF THE GALAXY PINBALL MACHINES & ACCESSORIES

GUARDIANS OF THE GALAXY PRO
$5,999-Free Shipping- IN STOCK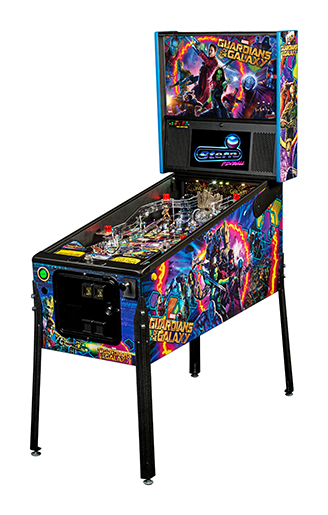 GUARDIANS OF THE GALAXY LE - #10

$10,500 + Shipping

GUARDIANS OF THE GALAXY GAME DESCRIPTION
The Guardians of the Galaxy game will immerse players in a dynamic, challenging, and galactic pinball environment where Star-Lord, Rocket, Gamora, Drax the Destroyer, and Groot battle Ronan to stop him from using the Infinity Stone to destroy the galaxy.
Stern's Guardians of the Galaxy Pro, Premium, and Limited Edition models are packed with features that provide an irresistible gameplay experience. Each game features a sculpted and interactive ball-eating Groot. In addition, a custom sculpted Rocket figure will keep players on their toes as it blasts the ball back at rocket speed. Color-changing inserts highlight the mysterious and interactive Orb, which opens to reveal the powerful Infinity Stone. The Limited Edition and Premium models also feature extra magnets, custom artwork, RGB lighting, and sculpted Groot arms that sprawl across the playfield.
In addition to the immersive theme and exciting gameplay experience, Stern Pinball's SPIKE-2 electronic platform enables high-definition graphics and innovative animations on the LCD screen. The state-of-the-art electronic system also powers a high-fidelity 3-channel audio system that is three times more powerful than audio systems of previous generations.
All models feature stunning and distinctive hand drawn art. Guardians of the Galaxy entertains with an amazing array of modern and classic features, making it suitable for all skill levels.
_______________________________________________________________________
Pinballs.com is the Games Division of Automated Services, LLC. All rights reserved. 2021