WIZARD OF OZ PINBALL MACHINES

by Jersey Jack Pinball

Please call Mike regarding best pricing and delivery options.
800.727.8363

203.877.0348

Wizard of Oz Yellow Brick Road LE - NEW- IN STOCK
Price: $11,500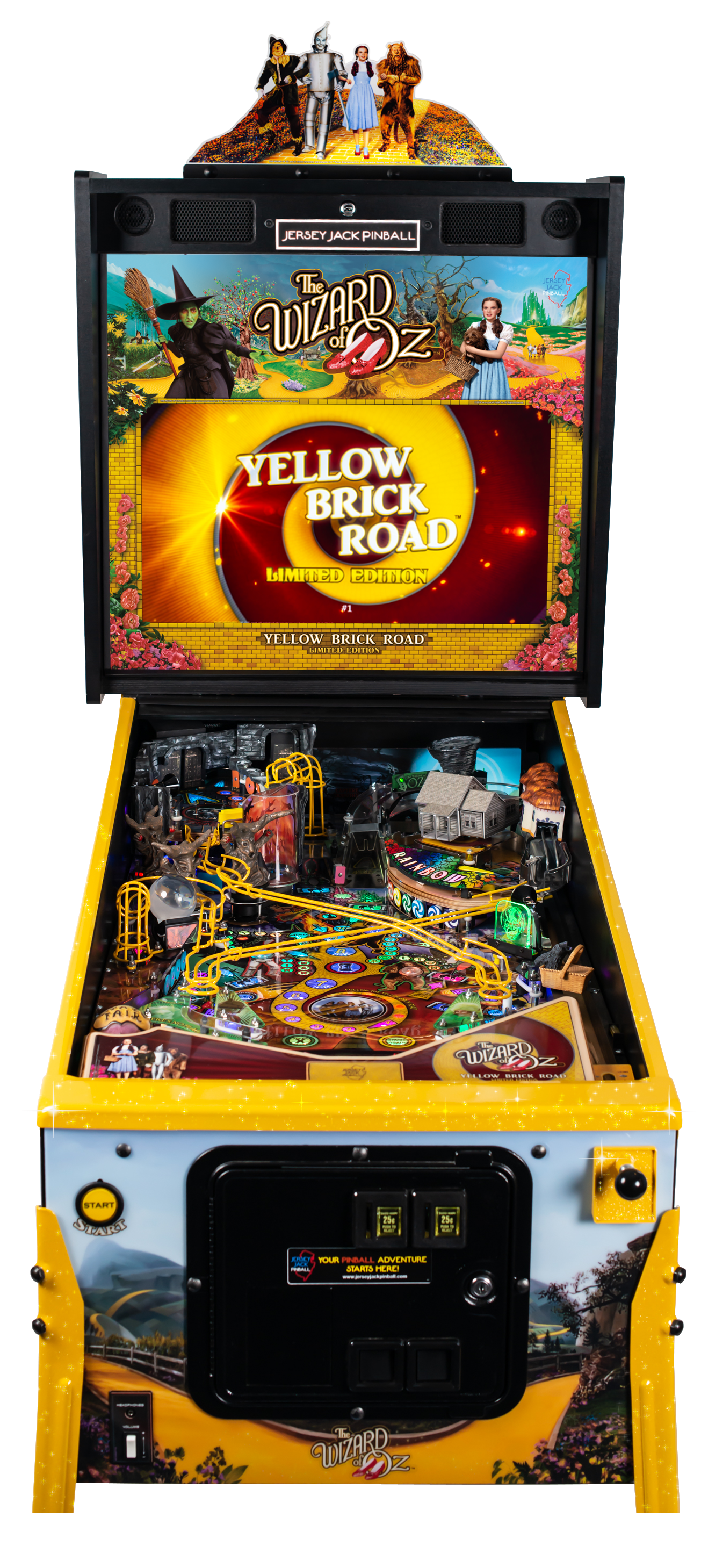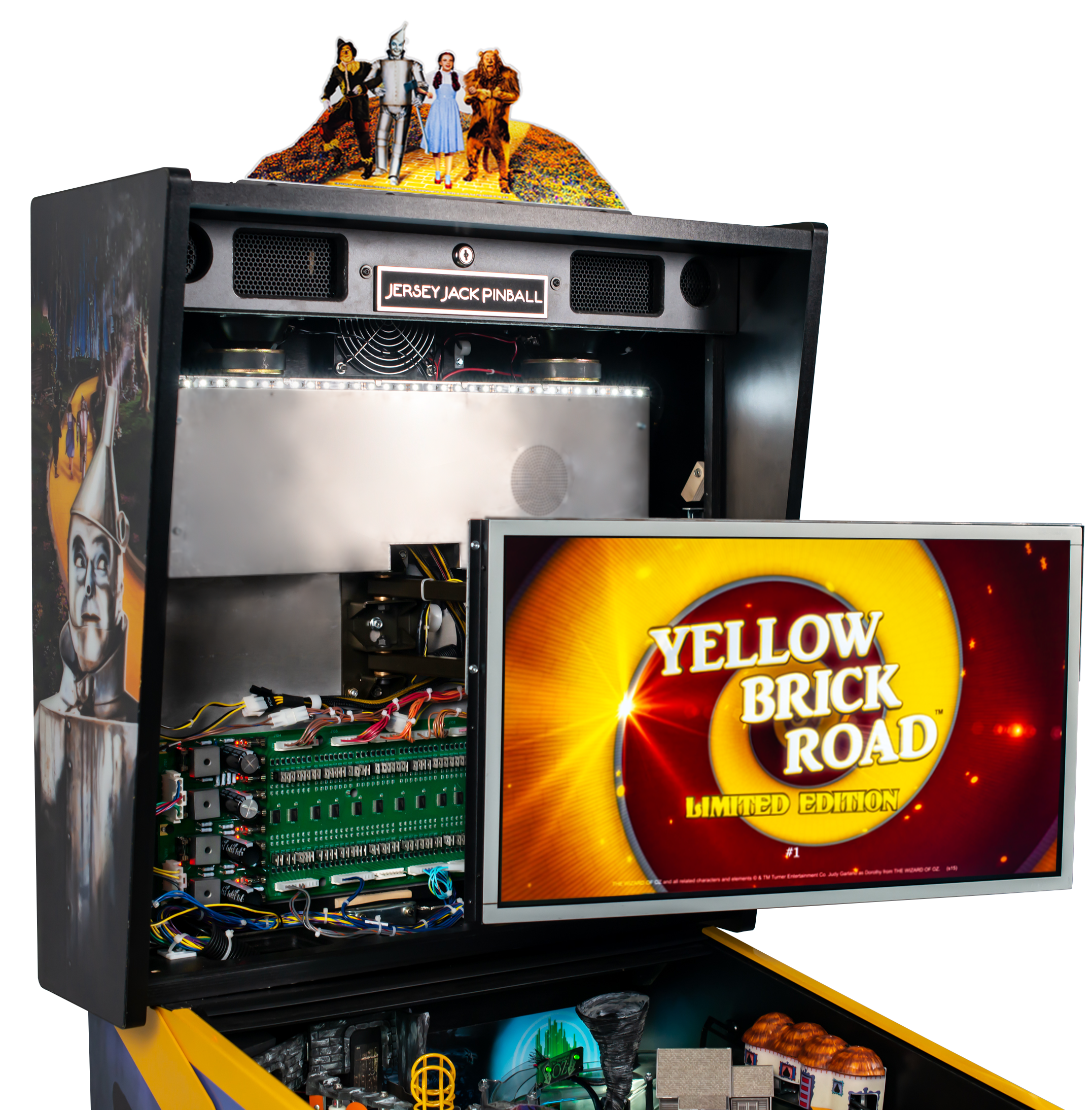 Specs.


-Wide Body
-Dimensions: 74.25″H x 29″W x 52″D
-26″ LCD HD-Quality monitor
-5 flippers
-2 mini playfields
-3 Trumper-Bumpers, 1-Balloon Bumper


-Crystal Ball


-Winkie Guard drop target




-Digital Stereo sound system
-Audio connection jack for headph/ear bud
-Component audio connection jack
-RGB-LED Playfield Lighting
-Shaker Motor
-INVISIGLASS™
-Limited Number of Units
-Premium Clear Coated Playfield
-One Year Warranty
-Weight: 395 lbs
ONLY AVAILABLE AT PINBALLS.COM

Possibly your last chance ever to buy a new in box Wizard of Oz pinball machine for less than $11,500.

Wizard of Oz-Emerald City Edition-NEW-IN STOCK
Price: $9,500


With 2.0 LIGHT BOARDS
Built in the middle of the WOZ 75th Anniversary run.

We exclusively have this new Emerald City Edition model (less than 100 were produced). It differs from the original Emerald City LE machine in that the cabinet is not direct print (which allows you to change decals, if desired) and it does not have the wooden apron. The apron on this machine is metal and features the four characters on their way to Oz. These machines include a factory-installed shaker motor and Invisiglass. A custom topper is designed for the Emerald City Edition.

Built on a wide body platform, The Wizard of Oz Emerald City Edition Pinball Machine is loaded with the action of three playfields. Follow the Yellow Brick Road through the main playfield, thematically split down the middle of the movie's theme of good vs. evil.
Rescue Dorothy from the Castle of the Wicked Witch of the West, spin the House through the twister and visit the odd and colorful Munchkinland. You're definitely not in Kansas any more!

Specs.
-26" HD LCD Display featuring full color custom animation, movie clips, scoring, attract mode, blackglass artwork and more.
-RGB-LED Playfield LIghting
-Emerald Green Body Armor and Legs
-Optically Non-Reflective INVISIGLASS Playfield Glass
-Emerald Green Tint Mirrored Backglass7 Speaker 2.1 Digital Audio system which will boom the music custom speech and sound effects
-Five flippers, Two mini playfields, three Trumper-Bumpers, one Balloon Bumper, Five magnets, One Spinning target, Crystal Ball, Rollover targets, Winkie Guard drop target
-New custom Topper being designed
-Shaker Motor
-Deluxe printed owner's manual ($100 value)
_____________________________


Also Available:


Wizard of Oz-Standard
2.0 Light boards, touch up on witches hat between flippers. Was used at a commercial location 2 summer seasons.

Price: $6,995

___________________________________________________________________________
Pinballs.com is the Games Division of Automated Services, LLC. All rights reserved. 2019