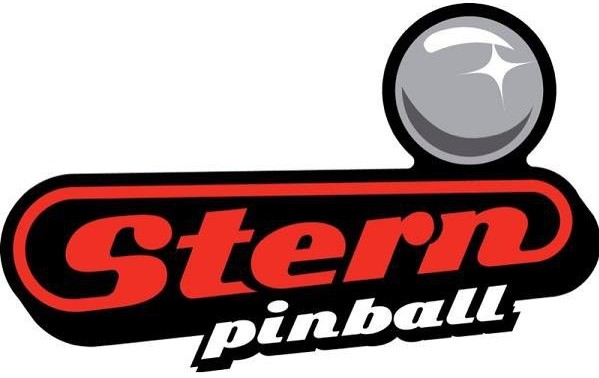 STERN PINBALL MACHINES
No one has a larger inventory of new Stern pinball machines in stock, ready to ship direct to you today than Pinballs.com. Unless otherwise noted, these machines are ready to go!

Many of our competitors call us to get the title you are asking for. Save time and money by calling us direct!

Please call Mike regarding best pricing and delivery options.
800.727.8363

203.877.0348

____________________________________________________________

Game: AC/DC Vault Edition
BY POPULAR DEMAND...It's Back!

AC/DC PRO VAULT EDITION


$5,599 - Free Shipping- InStock

AC/DC PREMIUM VAULT EDITION

$7,199 - Free Shipping

AC/DC VAULT EDITION FEATURES
____________________________________________________________________
Game: Aerosmith

AEROSMITH LE


$8,599 - Free Shipping

Pre-order today with a


$2,000 refundable deposit

AEROSMITH PREMIUM


$7,399 - Free Shipping


IN STOCK


AEROSMITH PRO


$5,699 - Free Shipping

IN STOCK



AEROSMITH - ACCESSORIES
AEROSMITH - GAME FEATURES MATRIX
_____________________________________________________________________
Game: Batman 66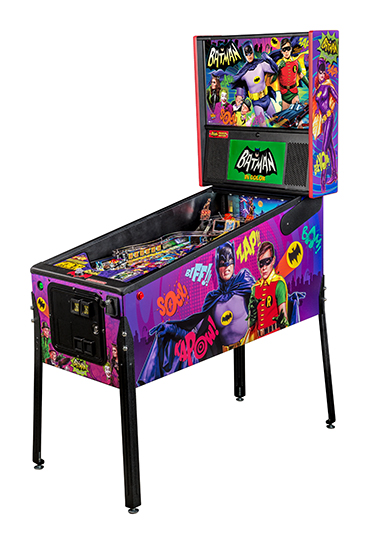 BATMAN 66 PREMIUM
$7,999 - Free Shipping
In Stock

BATMAN 66 - ACCESSORIES
BATMAN 66 - GAME FEATURES MATRIX
Stern Pinball is celebrating its 30th year in business and the 50th anniversary of the iconic American TV series with an Anniversary Edition pinball machine featuring the world famous "Dynamic Duo" of Batman and Robin. The game will immerse players in campy fun and heart-pounding action as the crime fighting Dynamic Duo comes to the aid of the Gotham City Police. Throughout the game, Batman and Robin work to deduce clues and discover super villain plots in an effort to thwart evil plans and capture bad guys.
Players are guided through the game by the voices of none other than the original Batman and Robin, Adam West and Burt Ward.
In addition to the fun title and game experience, the machine features a full color high definition display replacing the dot matrix display. In conjunction with Stern's new SPIKE-2 electronic pinball platform, the display enables high definition graphics and innovative animations. This enables the game to feature actual TV footage from the iconic series. The game includes a second high definition display on the playfield as part of an interactive game feature.
___________________________________________________________


Game:

Game of Thrones



GAME OF THRONES PRO

$5,599 - Free Shipping

In Stock


GAME OF THRONES PREMIUM


$7,199 - Free Shipping

In Stock


GAME OF THRONES LE

$8,395 - Free Shipping

In Stock

GAME OF THRONES - ACCESSORIES

GAME OF THRONES - GAME FEATURES MATRIX

Stern's Game of Thrones Pro, Premium, and Limited Edition machines are packed with features and toys that provide an irresistible challenge to play against kings, knights, knaves and dragons. Each player can choose to be a Knight of the Stark, Lannister, Greyjoy, Baratheon, Martell, or Tyrell family Houses, and pick other Houses to battle. Game of Thrones actor Rory McCann as Sandor Clegane (The Hound) guides the player throughout the game with authenticity and strong presence. The goal of the game is to rule the seven kingdoms of Westeros.
The Game of Thrones pinball machine will be available in three models offering a variety of pricing and exclusivity for Game of Thrones fans and pinball collectors.

All three models feature an animated, interactive dragon that roars, flies, and breathes fire through the magic of all-LED lit playfields. Players can slam the ball into the Battering Ram, attempting to break down the Castle Doors and grab features such as Super Jackpots, Wild Fire, and Playfield Score Multipliers. The animated mechanical Sword of Multiball holds back reinforcements until it's time to attack. A bank of three Drop-Targets lights the Lord of Light Lanes to protect against side drains and awards other progressive features. A Kickback fires the ball in anger when struck.
Players can win valuable random awards and features with Reel PopsTM, a fun new software mechanism, by playing the Pop Bumpers and spinning three virtual spinning reels on the display. When three identical symbols line up, the player is awarded the prize shown on the reels. Earn Gold and spend it on needed weapons and features. An Action Button is featured on the front molding for the largest array of interactive play features ever seen in a pinball machine.

Enter a whole new realm with Game of Thrones Premium and Limited Edition Pinball models. Vastly different from the Pro model, both Premium and Limited Editions feature a massive and challenging Castle upper playfield with a second set of full size flippers, shots and an animated Dragon. Both models feature dazzling, full-playfield, color-changing LED's throughout the game. An Elevator serving two "floors" brings the ball up to the Castle where the players battle against Houses and Dragons. The second Elevator floor delivers the ball to the Iron Throne, where victories great and small can be celebrated. Amazing light shows and effects are a visual celebration of players' victories.
The Limited Edition model delivers all the play features of the Premium model, while also featuring a Certificate of Authenticity, a numbered plaque, a designer-autographed playfield, a beautiful, hand-drawn cabinet and backglass artwork by Bob Stevlik. Exclusive, glossy, black- powder-coated, laser-cut side armor features dragon elements of the Targaryen Sigil and is inscribed with the Targaryen House motto, "Fire & Blood", all highlighted with a rich, red mirrored backing.

___________________________________________________________________
Game: Ghostbusters

GHOSTBUSTERS PRO

$5,599 - Free Shipping

In Stock

GHOSTBUSTERS PREMIUM

$7,199 - Free Shipping

In Stock

GHOSTBUSTERS LE

SORRY, WE'RE SOLD OUT

GHOSTBUSTERS - GAME FEATURES MATRIX
GHOSTBUSTERS-GAME DESCRIPTION

The Ghostbusters pinball experience captures the humor of the movie, while keeping the ball wild. Players explore modes and features that are straight from the original movie including the punch lines as call outs. Ghostbusters pinball is designed to be easy to play but difficult to master.
The game features two single drop targets in the middle of the playfield that are high risk but high reward. The game clearly leads the player from one goal to the next. All 5 GHOST lights begin to blink, making it clear that the goal is to hit the GHOST target. Once it is hit, the molded Slimer toy appears and it is obvious what to do next – hit Slimer. After Slimer is defeated, three mode lamps blink rapidly to show what to do next. When players shoot any of the indicated shots, the mode starts. Just like that, the player learns many of the fundamental game rules.
Ghostbusters has many ramps, two different Newton Ball features, a control gate, iconic toys including a color-changing Stay Puft Marshmallow Man and, of course, the movie's iconic theme song by Ray Parker, Jr. The game features four multiballs and nine modes, including two wizard modes, plus many other features and mini-modes. The Pro, Premium and Limited Edition models each feature unique, hand drawn art packages by Zombie Yeti.
In addition to the Pro features, the Premium and Limited Edition offers:
• Unique interactive holographic Ecto Goggles
• Rotating motorized animated interactive Slimer toy
• Haunted magnetic slingshot
• 3D molded Public Library
• 3D molded Storage Containment Facility with two lights and a flasher
• Underground subway ball lock
• Right loop ramp repeatable Jackpot
• Steel drop-off speed ramp through the subway ball lock
• Repeatable steel crossover looping ramp
__________________________________________________________________

Game: KISS

KISS PRO

$5,595


Only a Few Left


KISS LE

$8,295 - Free Shipping

KISS - GAME FEATURES MATRIX

KISS- GAME DESCRIPTION
Stern Pinball's KISS pinball machines reflect the energy, excitement, and experience of a live KISS concert. Players will experience10 famous KISS hits in the concert arena playfield and embark on an exhilarating experience ultimately becoming elite members of the KISS Army. Players score points and finish game objectives to fuel the audience's energy and excitement. Higher scores amp the experience–the higher the energy level, the bigger and louder the show–resulting in a KISS concert experience like none other.

Players are awarded for completing game goals with a variety of in-game front row seats, backstage VIP access and fun multi-ball modes that thrill players of all skill levels.
The game is built on Stern's new SPIKE pinball platform, which includes an upgraded high-fidelity 3-channel audio system over 3 times more powerful than previous generation pinball audio systems. KISS Pinball includes an amazing array of modern and retro features to appeal to players of all skill levels:
● 10 famous KISS hit songs: Deuce, Hotter Than Hell, Lick It Up, Shout It Out Loud, Detroit Rock City, Calling Dr. Love, Rock & Roll All Night, Love Gun, Love It Loud and Black Diamond
● Custom speech from Paul Stanley and Gene Simmons
● Full-color high-intensity animated LED music lights
● High-fidelity stereo sound effects and music
● Original Gene Simmons/Demon head molded toy
● K-I-S-S spell-out Drop Targets
● Blood-Spitting Demon Bass Solo player experience
● Fire-Breathing Demon "God of Thunder" Multiball Event
● Flying Starchild "Love Gun" Multiball Event
__________________________________________________________________
Game: METALLICA




METALLICA PREMIUM "MONSTER"

$7,199 - Free Shipping


METALLICA LED PRO

$5,599- Free Shipping

METALLICA - GAME FEATURES MATRIX
METALLICA - GAME DESCRIPTION
Stern's collection of rock and roll machines honors one of the world's foremost rock bands. Metallica's notoriously fast tempos and aggressive musicianship sets the tone for an exciting player experience.

Players are able to bang their heads and their flippers to 12 classic Metallica hits including "Master of Puppets," "One" and "Fade to Black." Other action-packed game features include an electric chair, snake, grave marker and unparalleled magnetic action.

____________________________________________________________________

Game: MUSTANG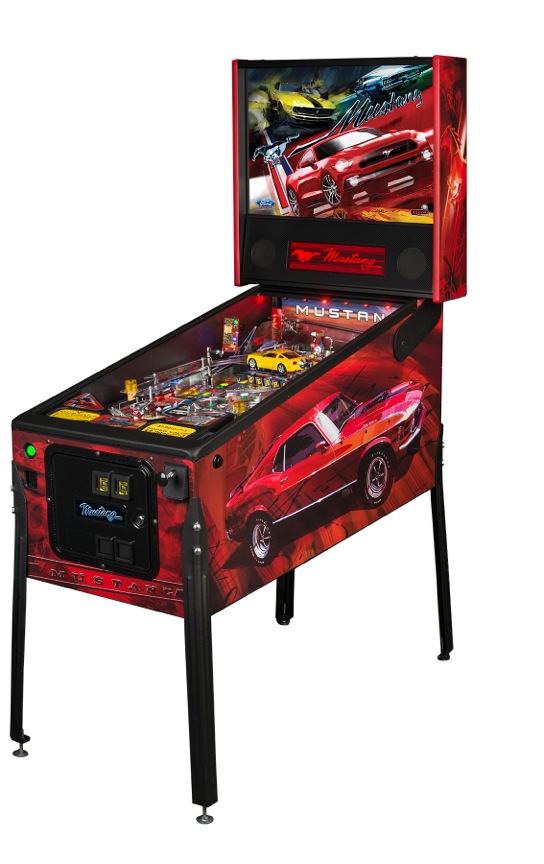 MUSTANG PRO
FLOOR MODEL
-
Less than 25 plays
$5,595 - Free Shipping

MUSTANG - GAME FEATURES MATRIX
MUSTANG - GAME DESCRIPTION
Stern has proudly announced the availability of three Mustang pinball games. The feature-rich Boss Premium and 50-Years-of-Mustang Limited Edition machines will join Stern's Pro model, The Mustang-inspired games combine two icons of American pop culture – pinball and Mustang.

The Mustang machines will feature cabinet and backboard artwork paying tribute to 50 years of Ford Mustang history. The Pro model, designed for arcades and other public spaces, features Mustangs from the past five decades. The Boss Premium model focuses on an array of Boss Mustang models while the 50-Years-of-Mustang Limited Edition machine contains exclusive commemorative game features and art from the1965 original Mustang through the all-new 2015 Mustang GT.

Each game includes real Mustang sounds and a Sony Music soundtrack featuring generational cruising tunes to give players the visceral experience of driving a Mustang. The Boss Premium and 50-Years-of-Mustang Limited Edition models feature genuine Ford Mustang chrome pony emblems on the speaker display panels, unique art packages, additional drop targets, an interactive turntable feature, a stainless steel crossing ramp and eight color-changing LED shot arrows to lead players on a unique racing experience.

The games incorporate a mix of classic pinball features and cutting-edge technology to let players race with some of the greatest Mustangs of all time and build a dream collection as players progress through the game. The playfield invites players to go drag racing, rallying, drifting and road racing as they string a series of shots together in pursuit of a high score.
__________________________________________________________________

Game: PABST BLUE RIBBON CAN CRUSHER
Our Price: $5,999 - Free Shipping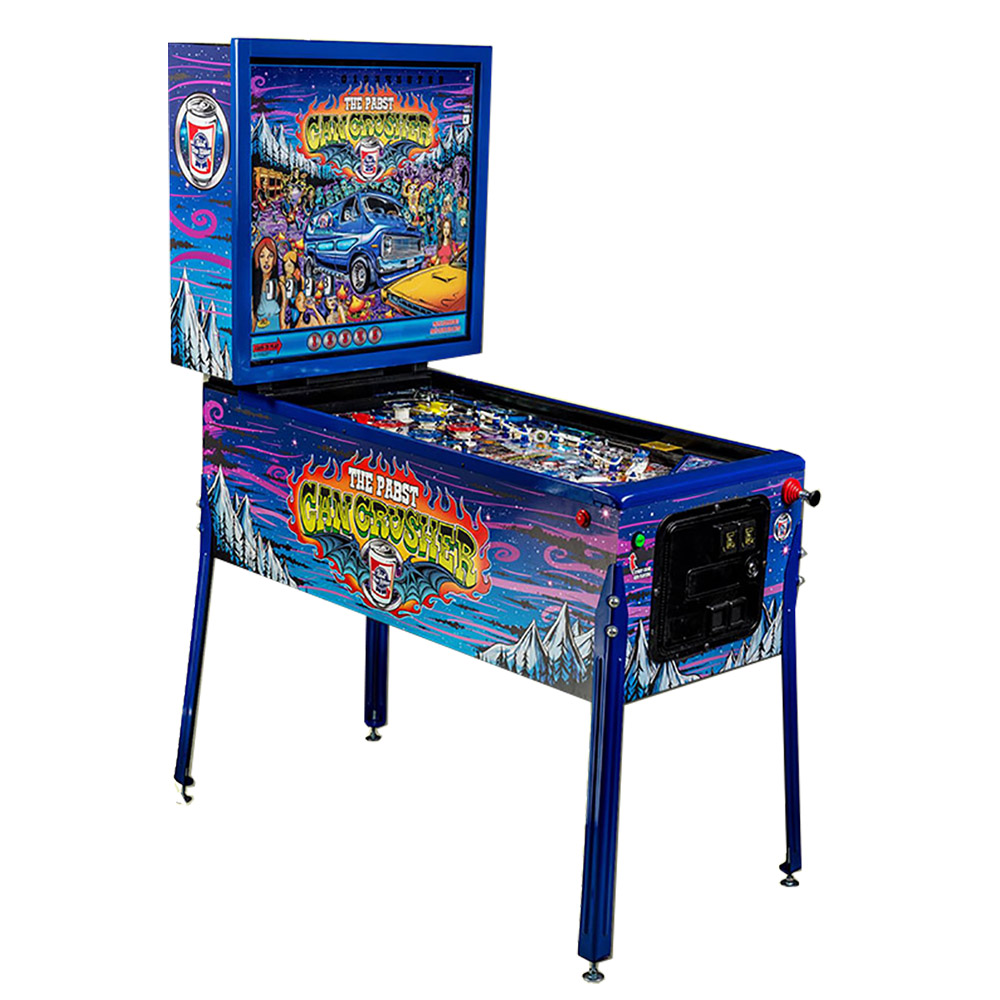 The Pabst Blue Ribbon (PBR) Can Crusher pinball is a re-themed version of WhizBang's Whoa Nellie! pinball machine. This retro-style pinball playfield pairs perfectly with the PBR beer theme.

Originally available exclusively for play at Pabst Brewing Company promotional events, this retro-style pinball is now available to everyone. The stylized backglass and playfield and music from the band Red Fang,make this pinball machine is perfect addition to any bar, tavern, or game room!

______________________________________________________________________

Game
:
SPIDER-MAN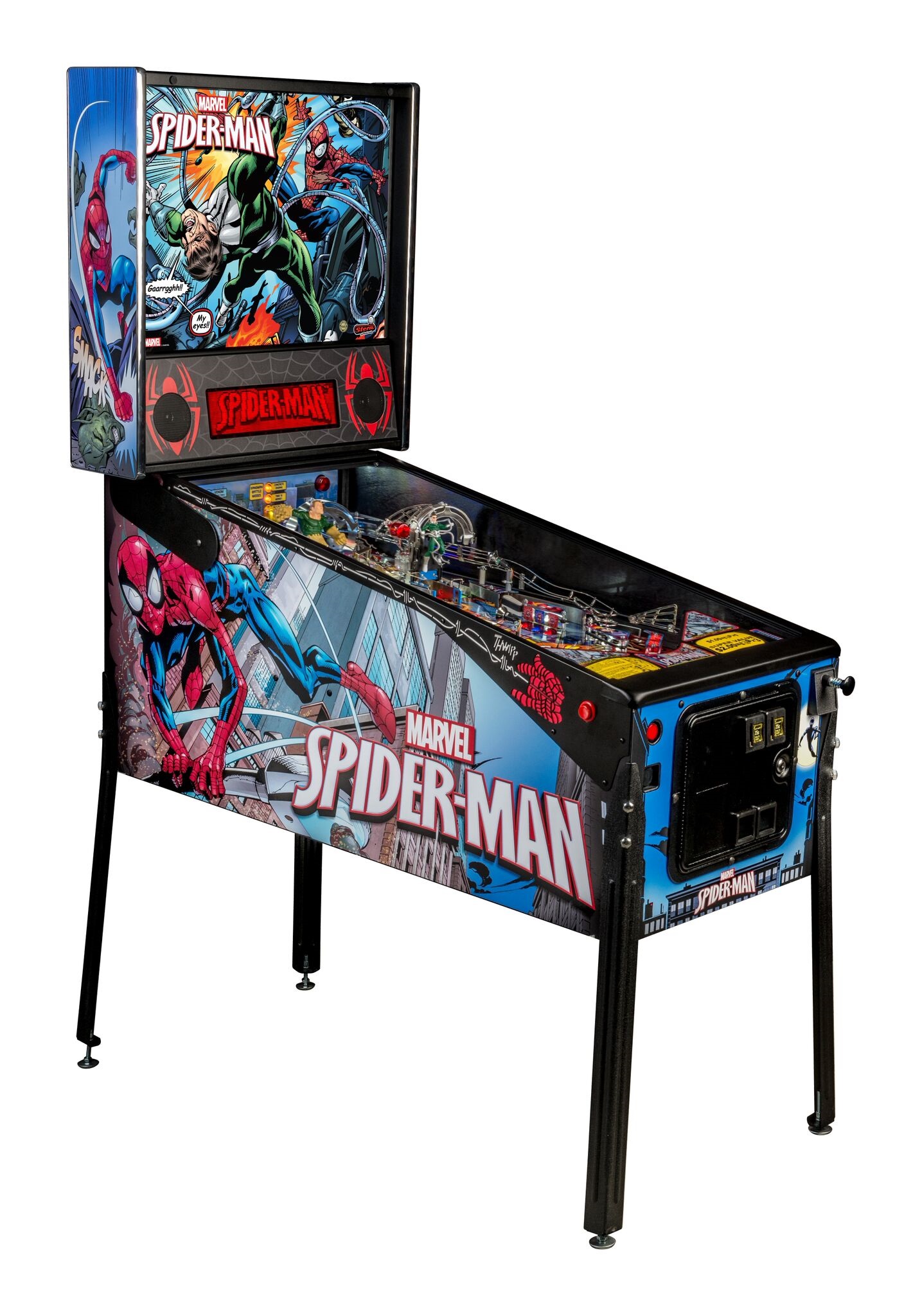 SPIDER-MAN VAULT EDITION
Our Price: $7,199 - Free Shipping
Inspired by the Marvel Universe Comic series, Spider-Man Vault Edition is an update of the pinball classic. The game features all-new art, animation and sound packages based on the legendary Ultimate Spider-Man comic series.

The Spider-Man Vault features the same amazing gameplay of the original, with an all new look and feel as well as all new art package, including: cabinet, backglass, decals, and playfield plastics.

The game also includes a shaker motor, all new custom-molded toys specifically designed and decorated to capture the Ultimate Spider-Man art style and new animation and dot matrix video art designed around the Ultimate Spider-Man comic art.

Webslinger themed laser-cut side armor in black powdercoat with contrasting color inserts.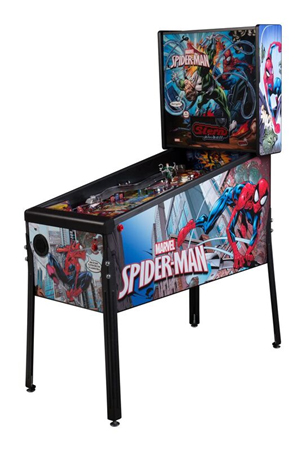 GAME: SPIDER-MAN HOME EDITION

Our Price:

$3,799 + Shipping
This recently released version of Stern's Spider-Man pinball machine is for home use only. The machine features an all new art package, including cabinet, backglass, decals and playfield. Other features include commercial grade flippers and bumpers, LED lights, state of the art electronics, LED scoring display and a durable cabinet design.
_____________________________________________________________________

Game
:
STAR TREK
STAR TREK STARFLEET PRO

$5,895 - Free Shipping

Floor Model - $5,495-Free Shipping


STAR TREK PREMIUM

$7,695 -2 Left


Floor Model - $7,295-Free Shipping

STAR TREK - GAME FEATURES MATRIX
STAR TREK - GAME DESCRIPTION

There are three versions of this Steve Ritchie-designed game. Stern's Star Trek pinball machine features all the bells and whistles a Star Trek fan would desire. With adrenalin-filled battles, high-definition artwork, cosmic LED lighting and classic musical scores, the Star Trek game will evoke the sensation of flying through space at Warp Speed to rescue Spock and defeat the U.S.S. Vengeance. The newest game from Stern includes an animated battleship, three lightning fast ramps, three flippers, resettable memory drop targets and much more.

Star Trek is Stern's first all-LED Pro Model. The playfield features eight multicolored LED paths that lead gamers on easy-to-understand color-coded routes. There are six missions for casual players matched by 18 complex treks to immerse enthusiast players deeper in the game. As players attack an oncoming threat with three action-centered flippers, the all-LED playfield will captivate onlookers and enhance the player experience with features like phaser flashes and photon torpedoes.

Players will instinctively know exactly what to do when they approach Star Trek pinball – destroy the U.S.S. Vengeance, a key action-packed feature on the playing field. From the very start, players will have the chance to unlock special opportunities, collect tantalizing bonus features and win a series of accolades called The Captain's Chair. Star Trek aficionados can expect the classic battle between the heroic Enterprise team and the villainous Khan as well as run-ins with Nero, Klingons and the Narada.
_________________________________________________________________________

Game: STAR WARS

STAR WARS LE


$8,999


In Stock




STAR WARS PREMIUM


$7,599 - Free Shipping
In Stock

STAR WARS PRO


$5,795- Free Shipping


In Stock


STAR WARS FEATURES
Start any version of Star Wars pinball and feel the excitement of the John Williams theme. Stern's Star Wars Pro, Premium and Limited Edition machines are packed with features that provide an irresistible game experience. The game includes select speech and footage from the original Star Wars trilogy; color-changing LED-lighted inserts; a sculpted LED-lit Millennium Falcon; and a sculpted TIE Fighter. The Limited Edition and Premium models also feature two LCD screens, an exploding Death Star interactive display, and a hyperspace ramp.
In addition to the immersive theme and exciting game experience, Stern Pinball's SPIKE-2 electronic platform enables high-definition graphics and innovative animations. The state-of-art electronic system also powers a high-fidelity 3-channel audio system that is three times more powerful than audio systems of previous generations. Star Wars Pinball entertains with an amazing array of modern and classic features, making it suitable for all skill levels.
All Star Wars pinball machines have 2 LCD's. Mounted on the playfield directly in the players view is a 4.25 inch LCD used as never before to give player instruction and feedback. In addition to score, status and instruction information, the backbox mounted larger LCD will display as many as 400 Star Wars video scenes. The player will decide to play as Hans, Leah, R2D2 or Luke. At the start of each ball the player will pick the award the player will earn for a successful skill shot, effecting strategy of good players to challenge them even on the Pro. The game will default select for the casual player, slow to make a choice.

Unique player controlled LCD fight modes are played while the ball remains active on the playfield.
Each version has a distinct art package. All are great hand-drawn Star Wars art. The LE is themed Millennium Falcon, the Premium for The Dark Side. To add to the distinction, the LE comes with laser cut side armor and all 3 backglass versions. Stern Pinball will soon have available an accessory LED lit frame to fit these backglasses.
________________________________________________________________
Game: THE WALKING DEAD

THE WALKING DEAD PRO

$5,599 - Free Shipping


THE WALKING DEAD PREMIUM

$7,495 - Free Shipping

THE WALKING DEAD - ACCESSORIES
THE WALKING DEAD - GAME FEATURES MATRIX
THE WALKING DEAD - GAME DESCRIPTION
Stern Pinball, Inc.has announced the availability of its Pro and Limited Edition models of AMC's The Walking Dead pinball machine. Inspired by the hugely popular AMC drama, the newest Stern game brings the hit series to life on the pinball playfield.

AMC's The Walking Dead, the most watched series among Adults 18-49, is based on the comic book series written by Robert Kirkman and published by Image Comics. The drama tells the story of the months and years after a zombie apocalypse. Stern's The Walking Dead pinball features everything fans would want in a flesh-eating pinball world. Players fight to survive the zombie apocalypse alongside series icon, Sheriff Rick Grimes, by battling zombies and completing various game missions. The game includes multiple zombie toys for adrenalin-filled zombie battles at familiar locations from the show such as the Prison and Cell Block C. A brilliant high-definition zombie-filled art package heightens the player's excitement.
_________________________________________________________________

GAME: WWE WRESTLEMANIA
WWE WRESTLEMANIA LE

$8,095 - Free Shipping

WWE WRESTLEMANIA PRO

$5,495 - Free Shipping
WWE WRESTLEMANIA - GAME FEATURES MATRIX
WWE WRESTLEMANIA - GAME DESCRIPTION

WWE Wrestlemania calls players into the ring as WWE superstars embarking on a quest to become the WWE worldwide heavyweight champion. Players train their wrestlers and then compete in a series of matches leading them on the road to Wrestlemania.
The WWE Pro and the Limited Edition machines feature an innovative upper pinball playfield wrestling ring. With the flipper buttons, players control two "Slammer" slingshot-style kickers in the ropes of the ring. Completing the three drop target bank starts a wrestling match. Players rack up points and pin opponents in the ring by shooting into a kick out hole. Keeping the ball in the ring and hitting as many targets as possible will advance players through the match. Multiple ramps guide the ball throughout gameplay, while brilliant lightshows highlight the all LED playfield. Ten licensed songs include intro music for wrestlers that players choose. WWE announcers Jerry "The King" Lawlor and Michael Cole add play by play excitement.

Wrestling legend Hulk Hogan will individually autograph each of the numbered WWE Legends of Wrestlemania Limited Edition (LE) machines on a bottom arch mounted gold plaque. With only 400 autographs available, this collectible must be limited to that number of games. The LE game art features classic WWE stars, of course including Hulk Hogan. Actual WWE wrestling action is projected on the LE's replica "Titantron" playfield level 5.7 inch LCD directly above the ring. The ball is always wild when it comes into contact with the LE's exclusive "Chaos" spinning DISC while a third "Wham! Arm" flipper allows players to knock the ball off a wire ramp.
__________________________________________________________________
GAME: X-MEN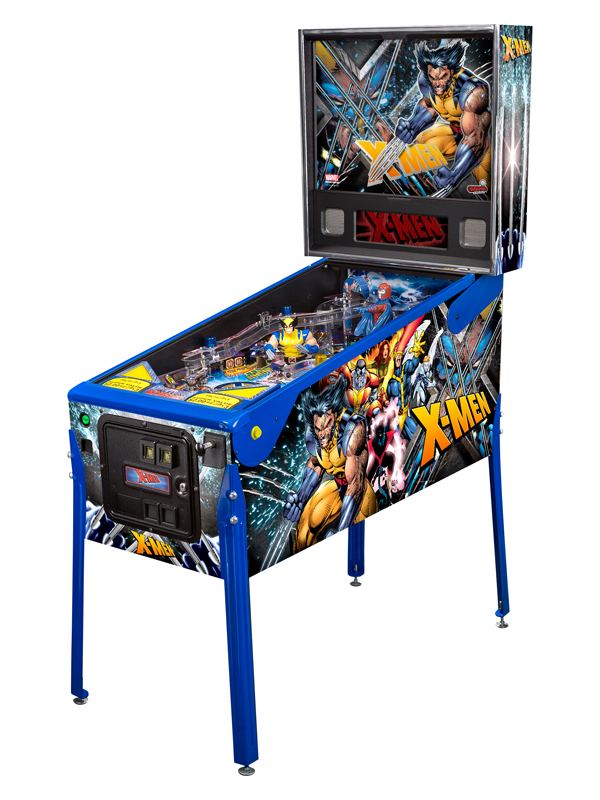 X-MEN WOLVERINE LE
$7,999 - Free Shipping
LAST ONE!

X-MEN - GAME FEATURES MATRIX
X-MEN - GAME DESCRIPTION

Based on the popular Marvel comic book series, the X-Men pinball machine is the latest Stern flipper game with a comic-book theme, joining the company's Spider-Man, Iron Man and Batman pieces.
This new X-Men game invites players to help assemble their favorite X-Men superheroes to do battle with a rogues' gallery of super villains. The forces of evil include Magneto's minions Juggernaut, The Brotherhood of Mutants, The Hellfire Club, Shadow King, Sabertooth, Sentinels and Omega Red. Molded Magneto and Wolverine figures are prominent playfield features, and the game incorporates a launcher for the Blackbird hypersonic airplane. Special game modes relate to the most exciting events in the X-Men universe.
________________________________________________________________________________________
Pinballs.com is the Games Division of Automated Services, LLC. All rights reserved. 2017