DART MACHINES

____________________________________________________________________________________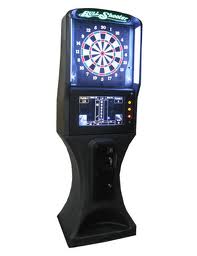 Game: Galaxy III

Manufacturer: Arachnid
Use: Home or Commercial

Price:
$3,995 - NEW
Galaxy III Live Commercial Electronic Dart Machine
The latest dartboard from Arachnid, the Galaxy 3 Live, features Dual "Flip" Dartboards, LED Lighting, Online Play Capabilities and International Player Rankings, as well as Arachnid's "League Leader" Paperless League Software !

All the features you liked about the Galaxy 2 have been carried over to the new Galaxy 3 + all the new features!

The Galaxy III comes with both the traditional 15" Darthead and the new European-sized 13" Darthead, both of which are mounted on a rotating back board.

Also new is the LED Illuminated Dart Target and Marquee - Strips of LED Lights line the side of the cabinet giving the player a well-lit dart head to throw at. These same LED's can be configured to display patterns of color to attract players to the game. The new Galaxy 3 is also capable of playing across the internet and across the world - This means players or teams in your own bar or other location can play against other players or teams across town, or across the globe ! The Galaxy 3 has (2) cameras located on the top of the cabinet, one of which is angled towards the dart face, so that the other player can see every dart hit, and the other camera being pointed toward the player.

Galaxy III Live Electronic Dart Machine Features :

• New On-Screen "Player Feats" and Game Graphics !
• New White + Multicolored LED Target Illumination !
• Quick Flip / Adjustable 15" and 13" Dart Heads !
• New Wired or Wireless Internet Connectivity !
• New Online Play - Play Against Others Worldwide !
• New Target + Player Cameras Tracks Online Play !
• Real Time Stats Updated Instantly On Screen !
• Operator Advertising – Free, Flexible, Customizable
• Free Software Updates
• Coin Models come with Dual Coin Mechanisms
and can be set for "free play" if needed and DBA
Model comes with both Coin + Dollar Bill Acceptors

Games included are : (6) 301 Games, (6) 501 Games, (6) 701 Games, Cricket 200, Hammer Cricket, Team Hammer, Cut Throat Cricket, Team Cricket, Quick Cricket, Wild Card Cricket, Cricket Quickie, Tic Tack Darts Bermuda Triangle, Gotcha!, Count Up and Count Down Games.
++++++++++++++++++

Game: Galaxy II.5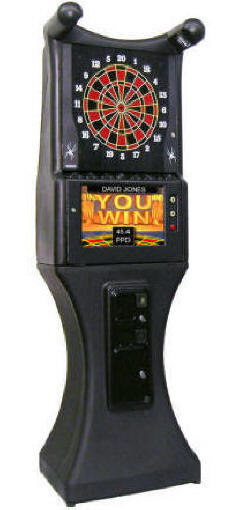 Manufacturer: Arachnid
Use: Home or Commercial

Price:
$2,695 - Reconditioned

(Add $100 for new bill validator)


Electronic Computerized Pro Dartboard

Galaxy II.5 Convertible is the latest dart game from Arachnid. This is the very first dartboard to have an interchangeable monitor to fit your needs. The 19" LCD wide flat screen monitor mounts from the bottom to top in just 3 minutes-no tools are needed. The mid flat screen has a hidden panel cover when you choose to have the monitor on top.
• Automated League Mode, and Multiple Units
can be networked together for League Play
• New 'League Leader" Dartboard Software
plus Downloadable League Standings.
• 19" LCD HD Monitor can be easily swapped from
mid-unit to top mount for higher score visibility
• Custom Advertisements can be shown on the
monitor to promote leagues, bar menus, etc !
• Coin Models come with Dual Coin Mechanisms
and can be set for "free play" if needed
• Customized Winner Screens + Attract Screens
• Impact Resistant Cabinet - Modem Call Out feature.
• Downloadable Software Updates.
• Compatible with all Galaxy Dart machines!
• Can be set for "Free-Play" use in just seconds !
• Comes in Coin or Coin+ Dollar Bill Acceptor Models

___________________________________________________________________________________


Game: Shelti Eye2 NEW

Manufacturer: Shelti
Use: Home

Price:
$2,995
Ahead of the game!
The Shelti Eye² home electronic dart machine continues to be a popular choice. Now available for home, the Eye² provides the playing experience and performance of our tavern style game, without the need for coins. The Eye² has a hinged cabinet that folds for easy transport and installation. Includes an attractive overhead scoring unit, brightly lit LCD display and a number of pre-programmed dart games. The Eye² is the ideal dart game for those customers who want to offer the experience of league play for their friends in their homes. Made in USA.
Features include:
+ Fold-in-Half Transportability
+ Universal 110 Volt Light Fixture
+ Highly-Visible Overhead Scoring
+ Tavern-Tested T60/30 Target
+ Interchangeable with optional 4-color and international size targets.
+ Piezo "Missed Target" Sensor
+ Phone-Style Keypad and LCD Menu Operation
+ Back lit LCD and 3-button menu enhance setup and statistics reporting.
+ Storage Access Door
+ Multiple Games and Game Options Includes "old favorites" like "01" games, Cricket, Hi Score, Wipe Out, You Pick It, Cut Throat, Rapid Fire and others
+ Auto and Manual Player Change
+ "TRU-SCORE" for Absolute Scoring Accuracy
+ Leg Levelers

Dimensions:
Height: Full 86" , Folded 45"
Base: 24" x 24¼"
Ship Weight: 200 lbs.

___________________________________________________________________________________

Game: Scorpion 9000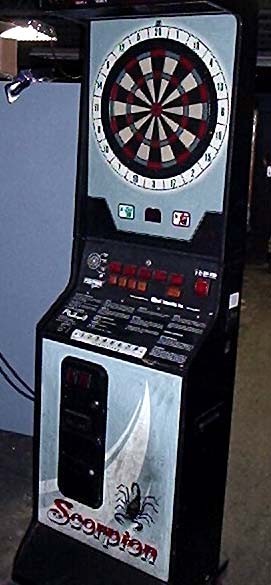 Manufacturer: Merit
Use: Home or Commercial

Price:
$995-RECONDITIONED
This is a reconditioned SCORPION 9000 DARTS arcade machine by MERIT INDUSTRIES with 321 ZAP!!
A rare piece in excellent condition.
SOLO CHALLENGER - The ORIGINAL Computer Challenge Player!
1 or more players vs. "SOLO"
NOVICE to SUPERPRO skill levels
SOLO substitution for absent league player
Mid-game SOLO "fill in"
PLAYER STATS
All stats displayed at end of game
Team stats - split or stacked
Points Per Dart & Marks Per Round (NDA)
HANDICAPPING MODES
Automatically computes PPD handicaps
Cricket Marks Per Round ratings converted to SPOT Cricket marks
Individual player option handicaps
SPECIAL FEATURES
Bonus Spin Match after every game
Player selectable BULLSEYE (split or solid)
Happy Hour pricing
1 round "back-up" permits replay of disputed or error round
FLIP TOP HINGED CABINET
Two minute set-up, no tools
Dimensions: 86"H x 24"W x 16"D
Built-in Level indicator
EXCITING GAME MENU
'01 GAMES
301 thru 1001
Double In * Double Out * Masters * Equal Darts Team Mode (All Games)
CRICKET GAMES
Straight Cricket
Crazy Cricket
Wild & Crazy Cricket
Pick-It Cricket
Options: Cut-Throat * No-Score * Team
NOVELTY GAMES
High Score
Shanghai
Baseball
Burma Road
321 ZAP!
___________________________________________________________________________________
Pinballs.com is the Games Division of Automated Services, LLC. All rights reserved. 2010.