ATTACK FROM MARS REMAKE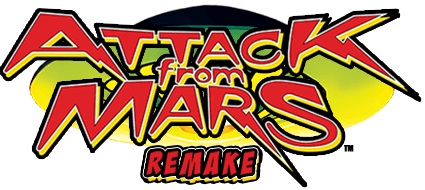 The AFMR Classic Edition and Special Edition are

IN STOCK!

Chicago Gaming and Planetary Pinball present Attack from Mars, the highly anticipated second game in a series of remakes of the greatest Bally and Williams pinball machines. Recreated to exceed the high standards of the original game, Attack from Mars will be available in three models: the Classic Edition, the Special Edition and the Limited Edition. These three models all have numerous features never before available and exclusive to the remakes.
Modern electronics have been engineered to improve reliability, simplify serviceability, reduce energy consumption and provide game owners with the ability to customize their own game.
Attack from Mars features all LED lighting which means you may have to never replace a light bulb again. Painstaking efforts were made to replicate warmth and feel of incandescent bulbs. The software controls the speed at which the LEDs reach full brightness to emulate the relatively slow ramps up and down of light produced by incandescent bulbs. Both the cabinet and backbox are manufactured with melamine clad plywood. Melamine is 10 times more scratch resistant than traditional lacquer finishes. The original fiberboard cabinet bottom has been replaced with a ½" plywood bottom - significantly improving cabinet strength and providing added protection for the cashbox.
GAME FEATURES and WARRANTY
___________________________________________________________

ATTACK FROM MARS REMAKE

SPECIAL EDITION
NOW IN STOCK!
Original Stainless Steel Trim

Price: $7,699 + Shipping

Factory Green Trim and Legs

Price: $8,099 + Shipping
ATTACK FROM MARS REMAKE

SPECIAL EDITION FEATURES include:
-Extra large full color LCD score display
-Enhanced sound system
-Metallic saucers
-Tri-color LEDs on main saucer
-Stainless steel cabinet trim
-Multi-colored backbox speakers
-Shaker motor included
_______________________________________________________________

ATTACK FROM MARS REMAKE
CLASSIC EDITION
NOW IN STOCK!



Original Stainless Steel trim
Price: $6,499 + Shipping
Add factory green trim and Legs

Price: $6,899 + Shipping
ATTACK FROM MARS REMAKE

CLASSIC EDITION FEATURES include:
-Standard sized Color LCD score display that can be set to any single color. Can be upgraded to Full Color DMD for Additional cost - $399.99
-All LED lighting throughout machine
-Stainless steel cabinet trim
-Shaker motor can be added for additional cost

_______________________________________________________________________
Pinballs.com is the Games Division of Automated Services, LLC. All rights reserved. 2020