AEROSMITH PINBALL MACHINE & ACCESSORIES

AEROSMITH PRO

$5,899 - Free Shipping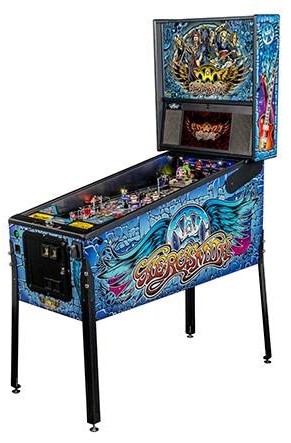 ________________________________________

AEROSMITH GAME DESCRIPTION
Stern Pinball's Aerosmith machines reflect the high-energy and excitement that accompanies the experience of a live Aerosmith concert. Players will rock to nine famous Aerosmith hits in the concert arena playfield and embark on an exhilarating pinball experience. Players score points and finish game objectives to raise the audience's levels of energy, thrill and enjoyment. Higher scores amplify the experience–the higher the energy level, the bigger and louder the show–resulting in an Aerosmith pinball experience that cannot be matched.
The Aerosmith machines all feature original hand-drawn art provided by "Dirty" Donny Gillies, who has produced work for bands including The Hellacopters, The Melvins, Queens of the Stone Age, The Wildhearts, Electric Frankenstein and the 5.6.7.8's, but is most noted for his work with metal band Metallica. In addition, the machines feature custom speech from Brendon Small, creator of Metalocalypse, the American animated television series centering around a death metal band. Players will be mesmerized by the interactive "Jacky on the Box" mechanical feature on the playfield. Jacky sits on a toy box allowing players to launch pinballs through the air and slam dunk the steel ball into the box. The more balls launched into the box, the higher the opportunity for a player to earn multiballs.

In addition to the heart pounding music and game experience, the machine features a full-color high-definition display. In conjunction with Stern Pinball's new SPIKE-2 electronic platform, the display enables high-definition graphics and innovative animations. The game includes a high-fidelity 3-channel audio system that is three times more powerful than audio systems of previous generations. Aerosmith Pinball entertains with an amazing array of modern and classic features, making it suitable for all skill levels
_______________________________________________________________________
Pinballs.com is the Games Division of Automated Services, LLC. All rights reserved. 2020
.