TRON IS HERE!
Game:

TRON: Legacy Pro


Manufacturer: Stern Pinball

Use: Home or Commercial
Price:
$5,795- Last One-Floor Model at our Store. Low Plays


TRON pinball puts the players in the middle of TRON movie and video game action battles. This is a fast moving game. TRON has 3 flippers, including an upper flipper to shot one of the two fabulous fast action ramps. Stern has not utilized a 3rd flipper in a while, and players will enjoy it. In the center of the playfield, near the top, there is a motorized 3 bank target assembly the player must hit and lower, to gain access to the illuminated, motorized spinning disc, representing TRON's Identity Disc. The spinning disc shoots the ball randomly across and around the playfield. Ramp shots take the player to an exciting Light Cycle multiball. The player shoots at the miniature TRON video game to start exciting features and collect big points.
TRON: Legacy is a visually exquisite 3D movie, and this pinball has captured the same exquisite visual, including its 3D backglass. Music is from movie and perfect for pinball.
This game is brought to you by the design team that delivered Iron Man and Avatar. Because this is truly a collectors and enthusiast's dream.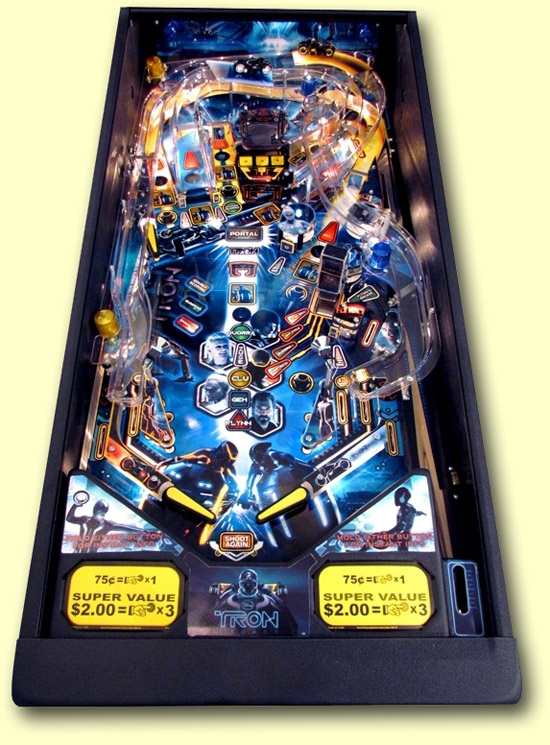 ________________________________________________________________________
Pinballs.com is the Games Division of Automated Services, LLC. All rights reserved. 2010